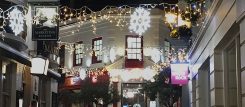 Brighton is the perfect place to get into the holiday spirit. May it be for Christmas shopping for your loved one or taking the kids to the Panto or Ice Skating we have it all!
Architect and talented illustrator Alej Ez opens an exhibition at New Steine Hotel.
Featuring for the first time in our exhibition space, an upcoming print maker and local Brighton resident Haydn Stride. At Gulliver's Hotel
November in Brighton is full of variety – from the The RAC Veteran Run and New Road's Vintage Market to fireworks and ice skating! Something for everyone surely? read on…
As always there's plenty of culture with great theatre and ballet and the annual Burning of the Clocks Parade – not to be missed!