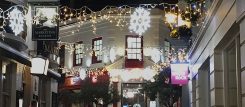 Brighton is the perfect place to get into the holiday spirit. May it be for Christmas shopping for your loved one or taking the kids to the Panto or Ice Skating we have it all!
Architect and talented illustrator Alej Ez opens an exhibition at New Steine Hotel.
As always there's plenty of culture with great theatre and ballet and the annual Burning of the Clocks Parade – not to be missed!