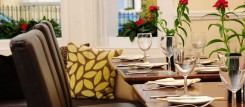 Brighton is a diverse resort town. This is clear from the wide variety of restaurants, cafes, bars and clubs spread throughout. Whether you are in…
Brighton has long been known as the gay capital of the UK. Our seaside resort town is extremely open-minded — people dress as they want,…
When you come to Brighton, we're not just all about the beaches, beautiful as they are. Down here in the south of England, our adorable…
Brighton has always been a magnet for families. With its famous beach and pier and large variety of shops, events and things to do for…
New Steine Hotel has been selected as a recipient of the TripExpert Experts' Choice Award.
Fewer than 2% of hotels worldwide receive the award.
The lovely Sandy Cadiz-Smith a freelance writer and editor, who specialises in food and travel visited Brighton again recently and stayed with us at The New Steine Hotel.
A Stay at The New Steine Hotel April 2017 Viestra Magazine's Annamarie Frankland spent 36 hours in Brighton, checking-out all it has to offer and…
The New Steine Hotel, and it's owner Hervé Guyat, always like to live the Brighton lifestyle, hosting events to match the diverse and current trends of this vibrant city, as well as supporting the many amazing festivals year round.
View a sneak peak at the hotel's style here and what's on the menu at the New Steine Bistro this season.
The New Steine Hotel proprietor's Hervé Guyat welcomes you to a very festive Brighton and offers regular customers a special thank you.