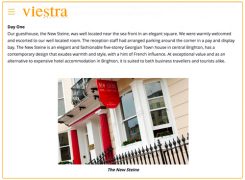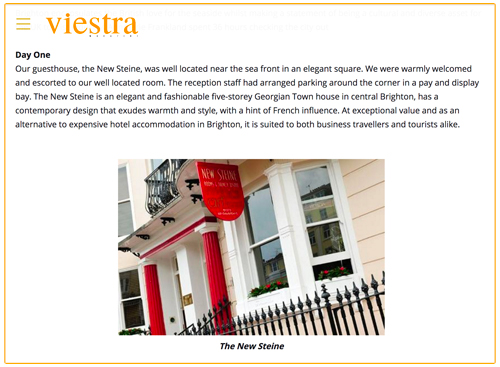 A Stay at The New Steine Hotel April 2017 Viestra Magazine's Annamarie Frankland spent 36 hours in Brighton, checking-out all it has to offer and…
The New Steine Hotel, and it's owner Hervé Guyat, always like to live the Brighton lifestyle, hosting events to match the diverse and current trends of this vibrant city, as well as supporting the many amazing festivals year round.
View a sneak peak at the hotel's style here and what's on the menu at the New Steine Bistro this season.
The New Steine Hotel proprietor's Hervé Guyat welcomes you to a very festive Brighton and offers regular customers a special thank you.
Meet Hervé and Jane once again as they introduce what's on in December 2014 and January 2015 at the New Steine boutique hotel and the city of Brighton and Hove.
Autumn in Brighton is full of entertainment.
From the Ace Reunion Cafe bikers meet-up in September to the Brighton Comedy Festival in October. Don't miss out!
With summer in full swing, fabulous weather and August Bank Holiday on its way, Brighton is a great city to visit.
It's hotting-up and Summer is well and truly here. Watch our video news including a stroll along the promenade, Brighton Wheel and other seaside attractions. Find out What's On in Brighton this Summer!
My name is Herve Guyat, owner of the New Steine Hotel & Bistro and Gulliver's Hotel. I wanted to start this blog to share my passion for food, restaurants, art galleries, theatre, Fringe performances, bars and clubs around Brighton.
Video News from the New Steine Hotel, Brighton, for June 2014 including details of the Kemptown Carnival and Rod Stewart's concert!