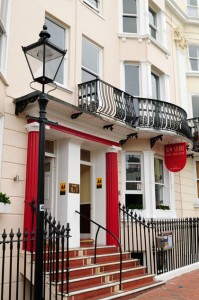 Das New Steine Bistro wurde ausgezeichnet mit dem 'AA Breakfast and Dinner Award' für herausragende Qualität und Service.
In all unseren Zimmerpreisen ist das Frühstück inklusive, also wieso sich nicht mal etwas gönnen?
Unser Frühstücksbuffet bietet Ihnen eine Auswahl von frisch gebackenen Croissants, leckerem dänischen Backwerk, frischen Früchten, Müslis, einer Auswahl von Käse und Fleisch, sowie Säften. Nicht zu schlagen ist unser warmes Frühstück, welches Ihnen die Wahl lässt zwischen den original englischen, vegetarischen und veganischen, alle mit lokalen Produkten von Bauern aus Sussex.
Frühstück ist verfügbar zwischen 8 Uhr und 10 Uhr von Montag bis Freitag and zwischen 8.30 und 10.30 am Samstag und Sonntag. Für alle die ein frühes Frühstück zum Start in den Tag brauchen, ist es auch schon ab 7 Uhr verfügbar. Werden Sie gerne noch mehr verwöhnt? Geniessen Sie den Vorteil von unseren entspannten Frühstückszeiten und bestellen Sie ein kontinentales Frühstück im Bett bis 10.30, ohne extra Kosten. Machen Sie schon- Gönnen Sie sich was!
Am Abend verwandelt sich das New Steine Bistro dann in ein gemütliches Pariser Restaurant, welches Ihnen selbstgemachte französische Küche gemischt mit britischen Speisen anbietet. Umgeben von Kunst und freundlicher, entspannender Musik, ist es der perfekte Platz, um exquisites Essen in einer einladenden Umgebung zu geniessen.
Jetzt auch 7 Tage die Woche geöffnet, können wir, mit einer Auswahl zwischen A la Carte Menu oder unserem täglischen 3- Gänge- Spezial- Menu, jeden Geschmack zufrieden stellen.
Sonntag bis Donnerstag, £12.95 pro Person
Freitag und Samstag, £16.95 pro Person