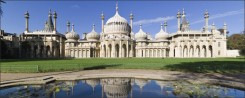 Spring Break Offers
Spring Break 2014 will be upon us before you know it, so why not get in early whilst we have some amazing rates, and getting your room booking all confirmed.
Brighton is still a hot destination for the spring season, no matter what the weather is doing. This cosmopolitan city of ours has something to offer everyone, from exploring the narrow passages and cobbled streets to discover that quirky little shop of trinkets, to the large array of mainstream shops and restaurants, along with the must see tourist sites of the Brighton Pier, Royal Pavilion or for those as little more adventurous, tours of the Regency Sewers (don't turn your nose up until you've seen their splendour and architecture ahead of it's time). And for the families there's plenty to see and do, from the pebbled beaches, to the newly refurbished Sea Life Centre, or take in one of the many shows from the range of theatres and venues.
Being ideally located only a few minutes walk from the Beach, Pier and Sea Life Centre, the New Steine Hotel is the place to base yourself for a visit this coming Spring time, and with amazing rates on offer, what are you waiting for?
Midweek rates:
Doubles from only £69.00 Bed & Breakfast
Triples from only £109.00 Bed & Breakfast
Weekend rates:
Doubles from only £95.00 Bed & Breakfast
Triples from only £109.00 Bed & Breakfast
*rates are per room per night and include our award winning breakfast, VAT and service. Room only rates are available – please contact us direct.