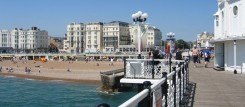 Video News – July 2014


It's hotting-up and Summer is well and truly here. Watch our video news including a stroll along the promenade, Brighton Wheel and other seaside attractions. Find out What's On in Brighton this Summer!

July 2014 Events


July in Brighton is a fun-filled month for couples, individuals and families. Come join in the fun.