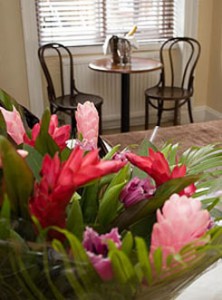 Looking for that intimate personal touch venue for your Wedding or Civil Partnership?
Want a hassle and stress free lead up to the big day. Once you've tied the knot, why not consider our New Steine Hotel for the perfect venue for your party and dinner?
From your first enquiry through to the end of the big event, our dedicated team will guide you through the process, taking all the stress out of what should be a thoroughly memorable and enjoyable occasion.
We have a wide selection of menu options, from simple canapés to Gourmet five course meals, and with an extensive wine list, you can't go wrong. Whatever you decide, however unusual or extravagant you wish to be, we can help you along the process, co-ordinating with suppliers and ensuring you manage your budget effectively. Read  more about our bistro's Private Dining menus here.
And should you wish to spice up your day with some untraditional themes or activities, we can offer a wide variety of packages to suit most tastes.
All our packages are tailor made to your specific requirements, so you can sit back and relax, confident in the knowledge that we will be in touch through-out the experience, ensuring you get exactly what you want for your perfect day.
And with Boutique rooms for that extra special touch, at affordable rates for both yourselves and your guests, you can't go wrong with the New Steine Hotel. Read more about our rooms here.