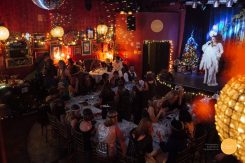 Proud Cabaret
New Year's Eve Masquerade Cabaret Ball!
Step into the New Year 2020 in style, as Proud Cabaret Brighton invites you to our Black Tie New Year's Eve Cabaret Ball.
Come and enjoy the best Burlesque show in town!
We would like to invite you to put on your finest outfit and join us for a magical evening.
We pride ourselves on the best food, the best award winning performers and staff who love to dress in full burlesque attire. We encourage you to dance the night away into the small hours, or simply relax at your table and chat until we call a taxi for you.
Show & After Party:
entry to see the cabaret show and after party with a glass of bubbly
Just £30 per person
Bronze Package:
a 3 course dinner and an extravagant Burlesque show
Just £84.00 per person
Silver Package:
3 course dinner and Burlesque show with a glamour kit
Just £90.00 per person
Gold Package:
a 3 course dinner, Burlesque show with a glass of Prosecco and a glamour kit plus preferential seating
Just £99.00 per person
VIP Package:
a 3 course dinner, Burlesque show with a glass of Prosecco, a glamour kit, a bottle of Wine, Cocktail of Choice, the Program, plus preferential seating
Just £115.00 per person
All packages include full cloak room services and the after party.

*Glamour Pack includes 2 items such as a feather boa, feather fan, long satin gloves, hat, braces or a masquerade mask.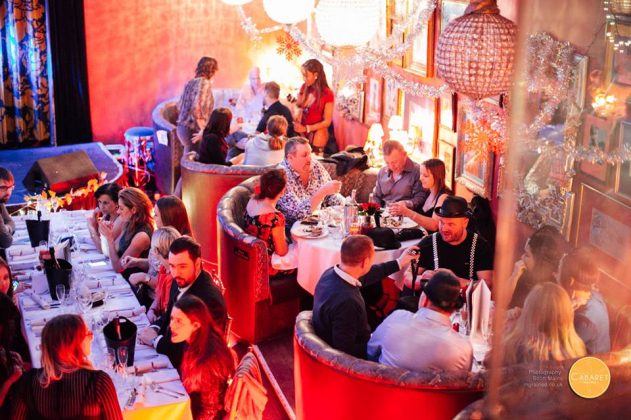 Seating is from 6.30pm to 7.45pm, with the show starting at approximately 8.30pm. Once the show has finished we will then have a New Year's after party.
In order to confirm a reservation we require a non-refundable £20.00 per person deposit, which will be deducted from your final bill providing your party size doesn't change.
We do fill up very quickly, so I'd recommend booking with us as soon as possible – it's best to book for your maximum number of guests, as this way we can guarantee space for everyone. Should your numbers go down before the event, just make sure you give us the final numbers at least two weeks before the event.
If you've got any other questions, please don't hesitate to get in touch with Proud on t: +44 (0)1273 605 789.
Or speak to the hotel concierge for more information!