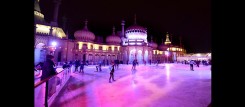 Meet Hervé and Jane once again as they introduce what's on in December 2014 and January 2015 at the New Steine boutique hotel and the city of Brighton and Hove.
It's hotting-up and Summer is well and truly here. Watch our video news including a stroll along the promenade, Brighton Wheel and other seaside attractions. Find out What's On in Brighton this Summer!
Video News from the New Steine Hotel, Brighton, for June 2014 including details of the Kemptown Carnival and Rod Stewart's concert!
New Steine Hotel – News for May 2014 including information on the Brighton Festival Fringe.