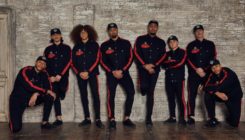 October brings more activities to the City. There's something for everyone from great theatre at The Brighton Dome and Theatre Royal, to fab family events. Check out our listings.
November 2019 in Brighton is full of variety – from the The Veteran Run and a-ha at The Brighton Centre to comedy and Pink Floyd! Something for everyone surely? Read on…
Architect and talented illustrator Alej Ez at the New Steine Hotel until 31/07/18.
Featuring for the first time in our exhibition space, an upcoming print maker and local Brighton resident Haydn Stride. At Gulliver's Hotel
Charly N'doumbe comes to Brighton. Using feminine and masculine nudes and practicing photography, drawing and sculpture, Charly produces pieces which combine all three mediums to magnify the body's natural beauty in both figurative and abstract forms.
24th April – 18th June 2017
Lustrous Brighton by Nick Ford, August & September 2016