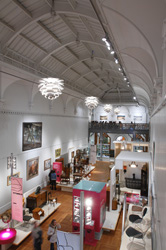 Set in the heart of the city's cultural quarter, Brighton Museum & Art Gallery is located in the Royal Pavilion gardens. Its rich collections and exciting exhibits are dynamically displayed in stimulating surroundings.
Entrance is free.
New Steine Hotel is located only half a mile from (a fifteen minute walk) away from Brighton Museum and Art Gallery, right in the heart of the city.
Brighton Museum houses one of the most important and eclectic collections outside national institutions. Exhibitis include:
The dazzling 20th Century Decorative Art & Design gallery
Mr Willett's Popular Pottery gallery
Brighton's rich and colourful history in the Images of Brighton and Exploring Brighton galleries
Our Fashion & Style gallery explores fashion through the ages from Regency to modern day
The Performance gallery brings you celebrations from around the world with puppets, masks, costume and musical instruments.
How do we see ourselves? The Body gallery takes a closer look. Please note: the Body gallery is currently undergoing redevelopment and will reopen on 19 March 2013 for a new temporary exhibition Chilled to the Bone: Ice Age Sussex.
There are three galleries devoted to Fine Art and one of the country's most significant collections of World Art including objects from Africa, Asia, the Pacific and the Americas is displayed in the new World Stories: Young Voices gallery.
Please note: Fine Art, Prints & Drawings and South Balcony galleries will be hosting Shoot the Wrx: Artist and Film-maker Jeff Keen exhibition from 27 October 2012 to 24 February 2013. Permanent collections from the galleries will not be on display during this period.