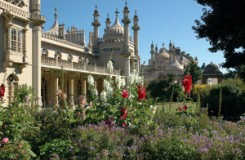 The Royal Pavilion is one of the most distinctive landmarks of Brighton & Hove stands proud as a reminder of the fashionable Regency society and the times associated. Built for the Prince Regent, who later went on to become King George IV, this remarkable building is famed for its Asian and Oriental influences, both evident inside and out. Build in various stages between 1787 and 1823, this royal pleasure palace is now home to some of the finest collections and examples of not just the Regency era, but of history of Brighton dating back centuries.
With its tearoom, museum and exhibits, license for weddings and ceremonies, large dining and exhibition hall, guided tours and general ambience, this is a must see on any visit to Brighton & Hove. Rooms to visit include the Music Room, Banqueting Hall, Royal Bedrooms, The Great Kitchen, the Royal Reception Rooms and the Indian Military Hospital Gallery.
And with the New Steine and Gulliver's Hotels only a 5 minute walk away from the Royal Pavilion, why not grab a deal and tie in your stay with a contemporary place to lay your weary body.