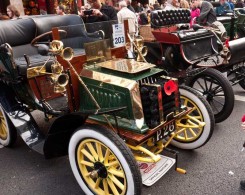 Veteran Car Run 2016
Sunday November 6th 2016.
The London to Brighton Veteran Car Run first took place in 1896 and is now the longest running car rally in the world. It takes place on the first Sunday in November and runs the 60 miles from Hyde Park in central London to Madeira Drive on the Brighton seafront.
Madeira Drive is less than half a mile from New Steine/Gulliver's making the Hotel an ideal place to stay if you're taking part or just watching these magnificent vehicles in action.
The London to Brighton Veteran Car Run commemorates the Emancipation Run of 14 November 1896, which was in honour of the "Locomotives on the Highway Act" being passed into law. This raised the speed limit for a 'light locomotive' from 4 mph to 14 mph. It also abolished the requirement for these vehicles to be preceded by a man on foot carrying a red flag. A red flag was ceremonially destroyed before that first 1896 run.
The second run took place in 1927 and it has taken place annually since then, except during war time. Since 1930 the event has been owned and professionally organised by The Royal Automobile Club. The event is strictly not a race and all cars taking part must have been built before 1905. The 1953 film comedy Genevieve is set around the Run.