Martlets Hospice SnowDogs
To celebrate the launch of the 'Snowdog-by-the-Sea Art Trail' in Autumn 2016, the New Steine Hotel ran a SnowDog Competition offering one lucky winner a complimentary night's stay at our Hotel!
The WINNER is Gemma Beugg! We're looking forward to welcoming you to our hotel.
This competition is now closed. Details were…

Brighton and Hove is the host for a joint charity collaboration between Martlets Hospice, Wild in Art and Penquin, where 'Snowdogs', decorated by various local and national artists, and sponsored by local businesses, will be displayed throughout the city from

Saturday 24th September 2016 to Sunday 27th November 2016.
Alongside this, local school children have designed Snowdog Puppies to be on display at museums and libraries throughout the city, all to raise funds for the Martlets Hospice. All details can be found on the website www.snowdogsbythesea.co.uk as well as chances to donate and take part.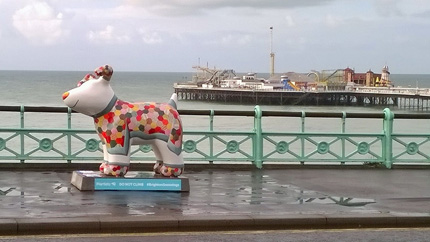 Brighton & Hove Hotels Association (BHHA)
The BHHA, of which the New Steine Hotel is a proud member, has sponsored one of the Snowdogs called 'PATCH', which will be on prominent display just at the bottom of the New Steine square on the seafront. Painted by local artist Judith Burrill, with her 'The Snowman and the Snowdog' inspired creations, these will be launched at Brighton Marina before being on the Art Trail at New Steine during the two month event.
All donations will be matched by the New Steine Hotel with a further £1, with a minimum donation of £100 to the Martletts Hospice.
So look out for the start of the Art Trail and get snapping!
You can download a PDF of the SnowDogs Trail here (PDF 1.4Mb).
Competition CLOSED.
All entries must be posted by the 30th November 2016.
T&C's
Minimum of 2 Snowdog Selfie's per competition entry. Entries must be posted to either our Facebook account https://www.facebook.com/newsteinehotel or to our Twitter account https://twitter.com/NewSteine using the hashtags provided. Prize must be used before 31st March 2017 for a midweek stay Sunday to Thursday subject to availability. Meal option is from the daily specials menu and pre-booking of a table is required. The draw will be made within one week of the closing deadline and the winner notified via their respective Facebook/Twitter account and advertised on our website and social media accounts. Maximum £200 donation to be made.